History tends to repeat itself.
We get it. To avoid false promises and tied up phone lines, the IRS stopped posting a refund cycle chart in 2012. Although the IRS won't post a refund cycle chart anymore, that doesn't mean that we can't do a bit of research to estimate the dates that our refunds will arrive in our bank accounts.
Whether you want to book a getaway with that special someone (…or your buddies), need to pay those bills that are piling up, or just have a firm grasp on your finances, knowing when you'll be receiving such a large chunk of money is important. That's why our team at Rapidtax has put together a 2016 refund cycle chart for you based on prior year trends.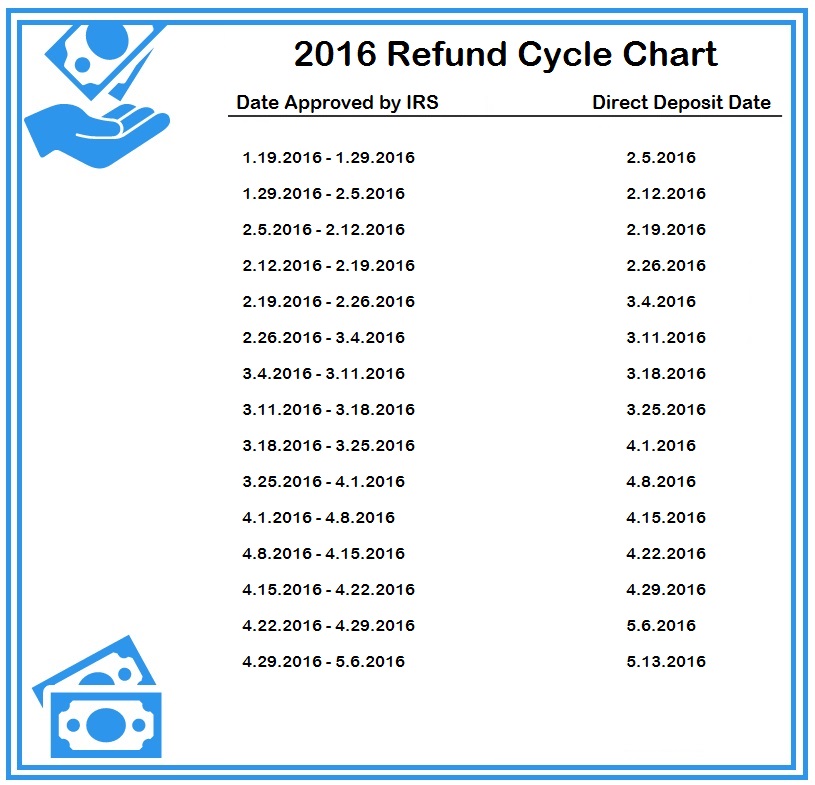 Is there another way to check a tax return status after filing?
Yes. There is an alternative that can give you a bit more accuracy. The IRS provides taxpayers with the "Where's My Refund?" tool on their website. Upon filing your tax return for the current year, you can check back to the site for a status update. In order to take advantage of this, you'll need the following information:
your social security number

your filing status

your expected refund amount
One of the few downsides of this tool is that you can only check the status of your most current year filed tax return. So if you were playing catch-up this year and filed your returns dating back from 2011, you'll only be able to check the status of the most recent year that you filed.
Prepare your return online and get your refund ASAP.
At Rapidtax, we know that getting your refund as fast as you can say "TRIP TO TAHITI" is important. That's why we offer the best customer support with our team of tax pros ready to assist you while you prepare your return online.The official start of the tax season is January 19th but you'll be able to create an account with us before then and contact our team with any tax questions you have.