Once upon a time, there was an IRS refund cycle chart that told taxpayers when they could expect to receive their tax refund.
Don't plan on the IRS posting a 2015 Refund Cycle Chart. In 2012, the refund cycle chart fairy tale ended and the IRS eliminated the chart.
However, there are still helpful tools out there to help filers get an idea on when they can expect to receive their tax refund in 2015. Since each year differs slightly, you can check out the 2016 refund cycle dates HERE.
Where do I go to find out when I will receive my refund?
The IRS no longer posts a tax refund chart, however, they did post an article last year explaining a refund tool available on their website called "Where's My Refund?". Once your 2014 tax return is filed, you can check your refund status on the IRS site. You'll need to enter the following information;
social security number
filing status
refund amount.
Are there any estimated refund cycle charts available?
Although the IRS won't post a 2015 refund cycle chart, there are estimate refund cycle charts out there. The dates are based on trends from prior years. The tax refund cycle chart is based upon how you elected to receive your tax refund; via direct deposit or check. Below is an example of a 2015 refund cycle chart (don't forget these are estimate dates);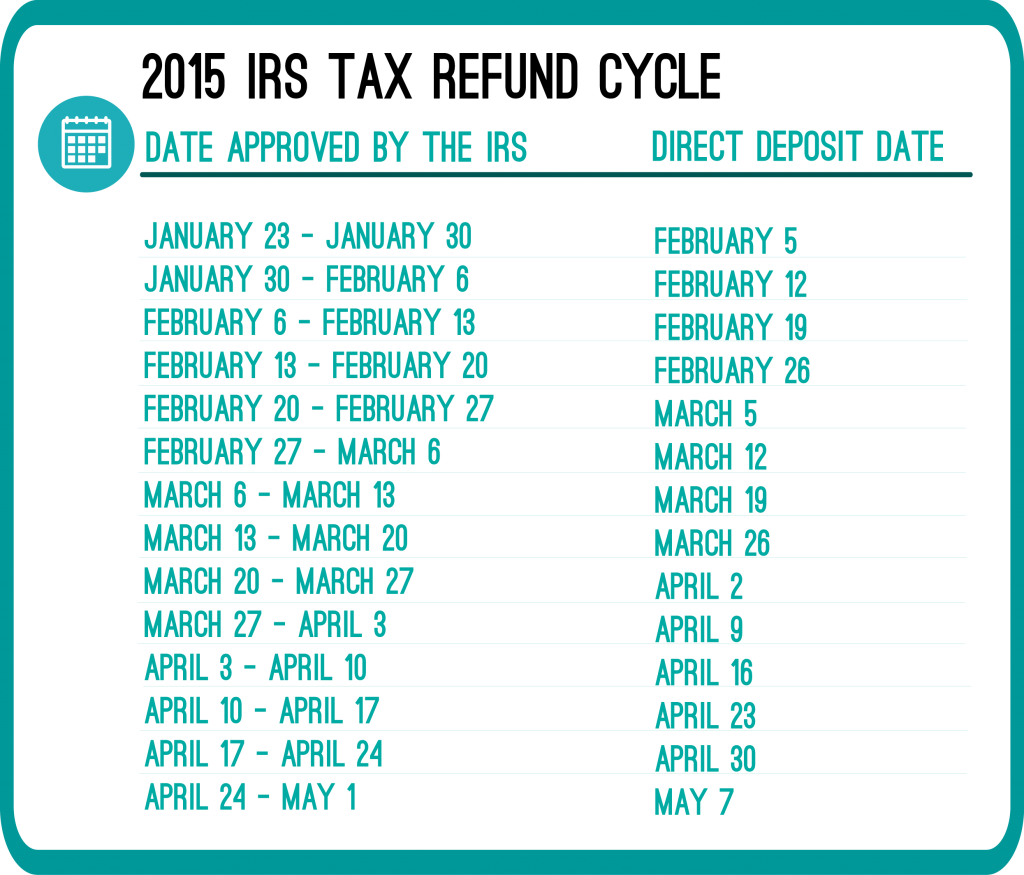 The tax refund cycle dates are NOT promised dates. They are simply dates based off of previous year trends. To know for sure when you will receive your taxes, wait a few days after filing your 2014 taxes, then check the IRS website using their "Where's My Refund" tool.
The IRS is now accepting e-filed 2014 Tax Returns. That means you can file your 2014 today with RapidTax and within 21 days you'll have your refund money. |  Photo via Seth Anderson on Flickr